Discover the Benefits of Membership!
What Can TAA Do For You?
As a TAA member, you have access to a host of benefits designed to maximize your authoring success. 
TAA members receive much more than they pay in dues each year. 


Your First Year is Only $30!
Here are just some of the benefits TAA members receive:

Professional Development
Get expert advice and insight from more than 250+ on demand presentations.
Get up-to-date information on timely topics and participate in live Q&A with live webinars.
Join the TAA Conversation Circle, live, open discussions with other TAA Members on various topics, held at 1 p.m. ET on the last Wednesday of the month.
Browse our growing library of downloadable templates, worksheets, checklists and samples gathered from experienced textbook and academic authors and industry professionals to assist you with your own writing.
Download more than a dozen eBooks on writing and publishing, social media for academics, grant writing, and more.
View the results of TAA's 2022 Textbook Contracts & Royalties Survey, aimed at published textbook authors with the goal of providing a look into the range of royalties and contract options offered for print and digital textbooks.
Stay connected to the textbook and academic authoring industry, and gain inspiration and insight from articles and member profiles with the TAA Blog, Abstract and TAA's member newsletter, The Academic Author.
Watch a 5-10 minute how-to video 

on scholarly writing, time management, productivity, publishing, online presenting, and more, and then get back to your writing project with new inspiration and insight!

Learn and network with other textbook and academic authors at the TAA annual conference, on TAA's social media channels and its 

an 

Online Bulletin Board,

 where you can post messages seeking coauthors or mentors, offering publishing opportunities and more.



---
Grants & Discounts
Offset your out-of-pocket expenses with publication grants or maximize your royalty potential with a textbook contract review grant.
Browse a list of academic coaches, editors, consultants, intellectual property attorneys, indexers, accountants and tax advisors, and more, offering discounted rates exclusively to TAA members in TAA's Professional Directory.
Take advantage of special offers 

from TAA Industry Professional Members

, including discounts, downloads, white papers, and more.
---
Writing Programs
Accomplish your academic writing goals by focusing on two areas of academic writing that many authors tend to struggle with - isolation and accountability – with TAA's Month of Motivation program, now available by subscription! Open to members only. 
Flex your writing muscles in the TAA Writing Gym. This 6-week work-out-on-your-own gym time will serve as your writing accountability partner as you work to achieve your writing goals. The gym is open to those writing textbooks, scholarly journal articles, and dissertations. Open to members only.
Get support on writing your first textbook with this new online course, Writing and Developing Your College Textbook. Writing and crafting a textbook and attending to authoring tasks is a time-consuming, complex—some would say monumental—project, even harrowing at times. Whether you are writing a textbook for a traditional publisher, self-publishing, or writing an open-access textbook, this course covers everything you need to be successful.
---

Advocacy
Diversity, Equity and Inclusion Resources
View materials TAA's DEI Committee has developed, or information about fellow TAA members' experience and advice, regarding how you can apply DEI principles to your own writing, and steps you can take to improve DEI for your own and/or fellow authors' writing projects.
Read the TAA Code of Ethics and TAA's Position Statement on the Academic Value of Textbooks
---

Books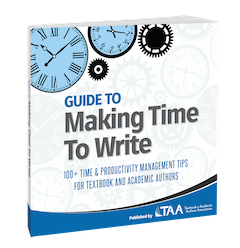 Guide to Making Time to Write: 100+ Time & Productivity Management Tips for Textbook and Academic Authors
Making time to write–and doing it productively–can be challenging. So, to help you succeed, we've collected 100+ successful tips and strategies–and a lot of inspiration–from authors who have made the time and made it work. In this Guide to Making Time to Write, you will find just what you need to boost your productivity, adjust your routine, and focus on your writing efforts once and for all. Isn't it time for you to make the time to write?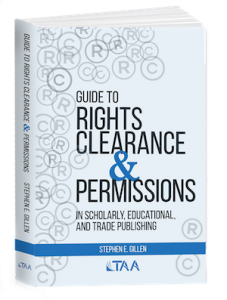 Guide to Rights Clearance & Permissions in Scholarly, Educational, and Trade Publishing
Learn what you need to know to avoid and manage copyright infringement claims that arise from the publication of your book, article, or media project. In this book, intellectual property attorney Stephen E. Gillen covers the unique rights clearance and permission issues related to writing scholarly works.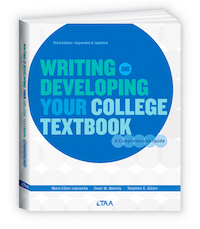 Writing and Developing Your College Textbook: A Comprehensive Guide
This updated and expanded third edition will empower you to undertake textbook development by guiding you through the nuts and bolts of the development process, and providing essential background information on the changing higher education publishing industry, as well as how to choose a publisher, write a textbook proposal, negotiate a publishing contract, and establish good author-publisher relations. 
Guide to Textbook Publishing Contracts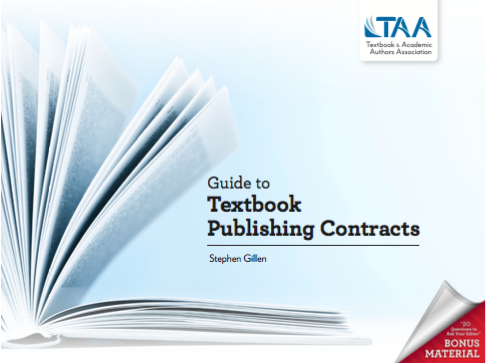 In this step-by-step guide by Stephen Gillen, a Partner at Wood Herron & Evans, you will learn the key provisions of a typical textbook contract and how to determine what's important to you so that you can enter into the contract negotiation process better informed. Get the "typical", "better" and "better still" options you can consider when making decisions about what to negotiate.