Presentations on Demand
Watch these one-hour presentations anytime, anywhere, on topics such as writing, editing, contracts, royalties, taxes, copyright, time management and more, presented by a variety of industry experts. Members: Log in to access. Non-Members: Join TAA today and receive access to all of TAA's 250+ presentations on demand for one full year.
Browse presentations by topic below:
Textbook Writing | Textbook Publishing | Contracts & Royalties | Taxes | Copyright | Marketing | Supplements | Indexing | Ebooks, Open Access & Self-Publishing | Textbook Proposals | Visuals and Illustrations
Academic Writing | Academic Publishing | Academic Editing | Academic Books | Grant Writing | Time Management & Productivity | Social Media for Academics | Tenure & Promotion | Dissertation Writing | Visuals and Illustrations

TAA Conference Sessions On Demand
2019 TAA Conference

---
Recent Presentations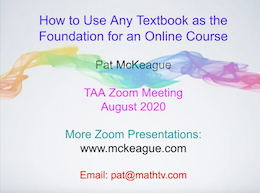 Presenter: Pat McKeague, Mathematics Textbook Author, Owner, XYZ Textbooks

Whether you use your own textbook in your class or you are using an adopted textbook, this webinar by Pat McKeague will show you how to use any textbook as the foundation for an online course. McKeague shares a step-by-step method for using a textbook to set up an online course using the tools in your LMS, an LTI connection, and video, to create a course that is an exciting, worthwhile experience for your students. Watch



---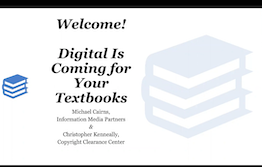 Presenter: Christopher Kenneally, Director of Business Development, Copyright Clearance Center; Michael Cairns, Independent Publishing Industry Consultant

While it has long been prophesied that the print textbook would disappear, it has actually taken quite a bit longer than people anticipated. This presentation reviews the latest developments in the creation, sourcing, and delivery of digital textbooks. In addition, it examines the looming fight for control of usage data. Administrators, instructors, and students increasingly demand all-inclusive and unlimited access to online educational materials (think, Netflix for textbooks). In July 2019, Pearson announced it would end the longstanding practice among textbook publishers of revising all active titles every three years according to a printing schedule. Instead, the British-based education publisher will employ a digital-first discipline for its publishing program. As textbooks give way to courseware, textbook authors will be looking for an education in 21st century business models. Watch
---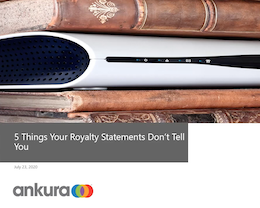 Presenter: Juli Saitz, Senior Managing Director, Ankura Consulting Group


The goal of this session is to help authors understand what information is provided by their publishers and help identify gaps in that information. This discussion will help authors be better informed so they know how to ask publishers more informed questions about adoptions, sales and royalties. Watch





---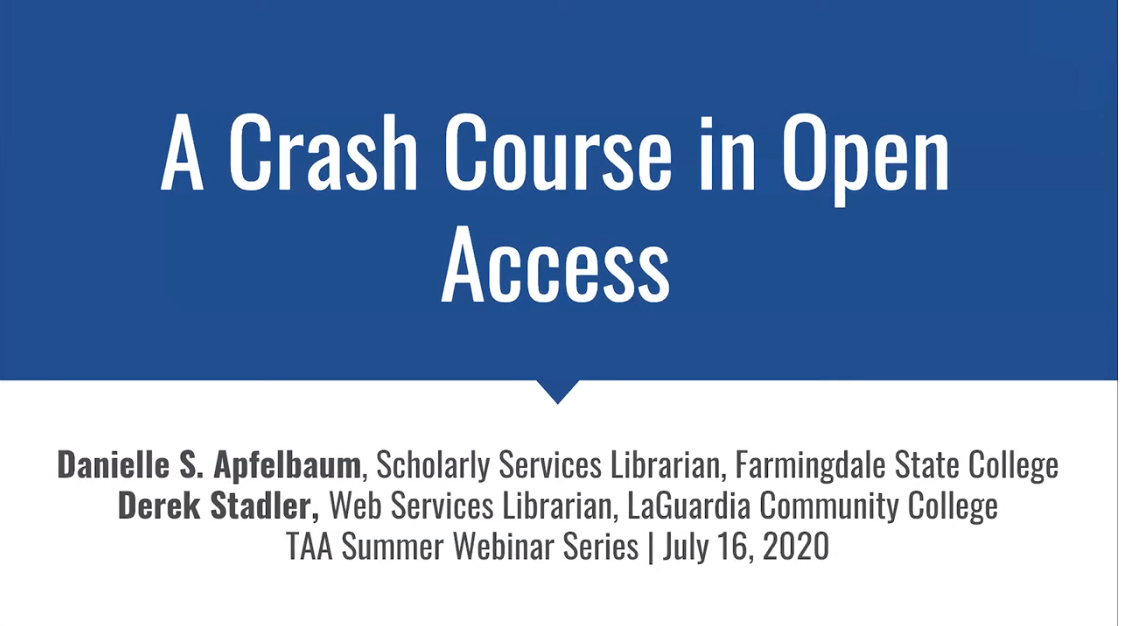 Presenters: Danielle S. Apfelbaum, Senior Assistant Librarian, Farmingdale State College; Derek Stadler, Assistant Professor at CUNY's LaGuardia Community College
Although open access publishing has been around for years, misconceptions about what "open" is and what it means for authors' works continue to persist. This session aims to demystify this multifaceted concept. By the end of this session, attendees will be able to describe and distinguish between common varieties of open access (green, gold, and platinum), understand how specific varieties of open access impact the dissemination of their work, and conceptualize the relationships between open access and peer review, copyright, and open licensing. Watch
---
Presenter: Kevin Patton, Professor Emeritus, St. Charles Community College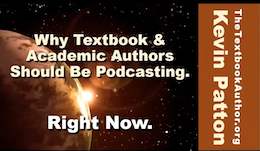 It's the dawning of the age of podcasting. Sure, streaming and downloadable audio programs available from an internet feed have been around for a while. But all signs show that podcasts are poised to explode in the number and variety of people reached. Especially in the coming post-pandemic era. The sooner we start podcasting, the better we can establish our show before the big rush, work out the kinks, and build a following. And the sooner we'll be a welcome voice in the ears of colleagues in our field and potential consumers of our academic works as they commute, walk their pets, or lounge on the patio after a hard day of teaching. Join Kevin as he relates his podcasting experience, outlines many different benefits of podcasting, and gives you loads of practical tips for starting and running your own podcast. Right now. Watch
---
Presenter: John Bond, President, Riverwinds Consulting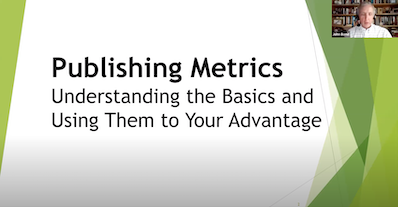 Metrics has become a trendy word that is often glazed over or misunderstood. Journal and Book Publishing is no exception. Impact Factor, Altmetrics, h-index, Eigenfactor score, article views/downloads, copies sold, citations, and others need not be a foreign language. Publishing Consultant John Bond gives a simple, approachable explanation of the common basic metrics and then moves onto how to use them to your advantage. Mastering these metrics in a simple, defined way can help you target the best journal to submit your work to. They can help you create a more attractive book proposal and find the best publisher for your new textbook idea. You'll receive a descriptive handout with examples so you can choose a couple and use these powerful tools to help with your publishing goals. Watch
---
Presenter: Meggin McIntosh, Professor Emerita, University of Nevada, Reno, Emphasis on Excellence, Inc.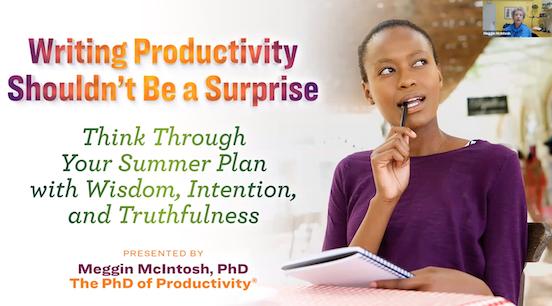 How many summers have you had big plans for getting SO MUCH WRITING DONE? Probably since you were in graduate school. How many Septembers have arrived with you completing less than you hoped? Probably the same number. If you are tired of a cycle that ultimately ends in disappointment and self-recrimination, then this session is for you! Learn how to think through your summer -- all aspects of it -- so you can plot out your potential for prodigiousness with a plan that actually works. You'll receive a template that you can use for this summer, as well as other seasons when academics need a wise, intentional, and truthful plan for their writing (December holidays, sabbatical, research leave, etc.).

If you want to keep your "wits" about you this summer, i.e., your wisdom, intention, and truthfulness, attend this session to learn how to plan thoughtfully and with integrity. Watch
---
Presenter: Danielle S. Apfelbaum, Senior Assistant Librarian, Farmingdale State College, and Derek Stadler, Assistant Professor, LaGuardia Community College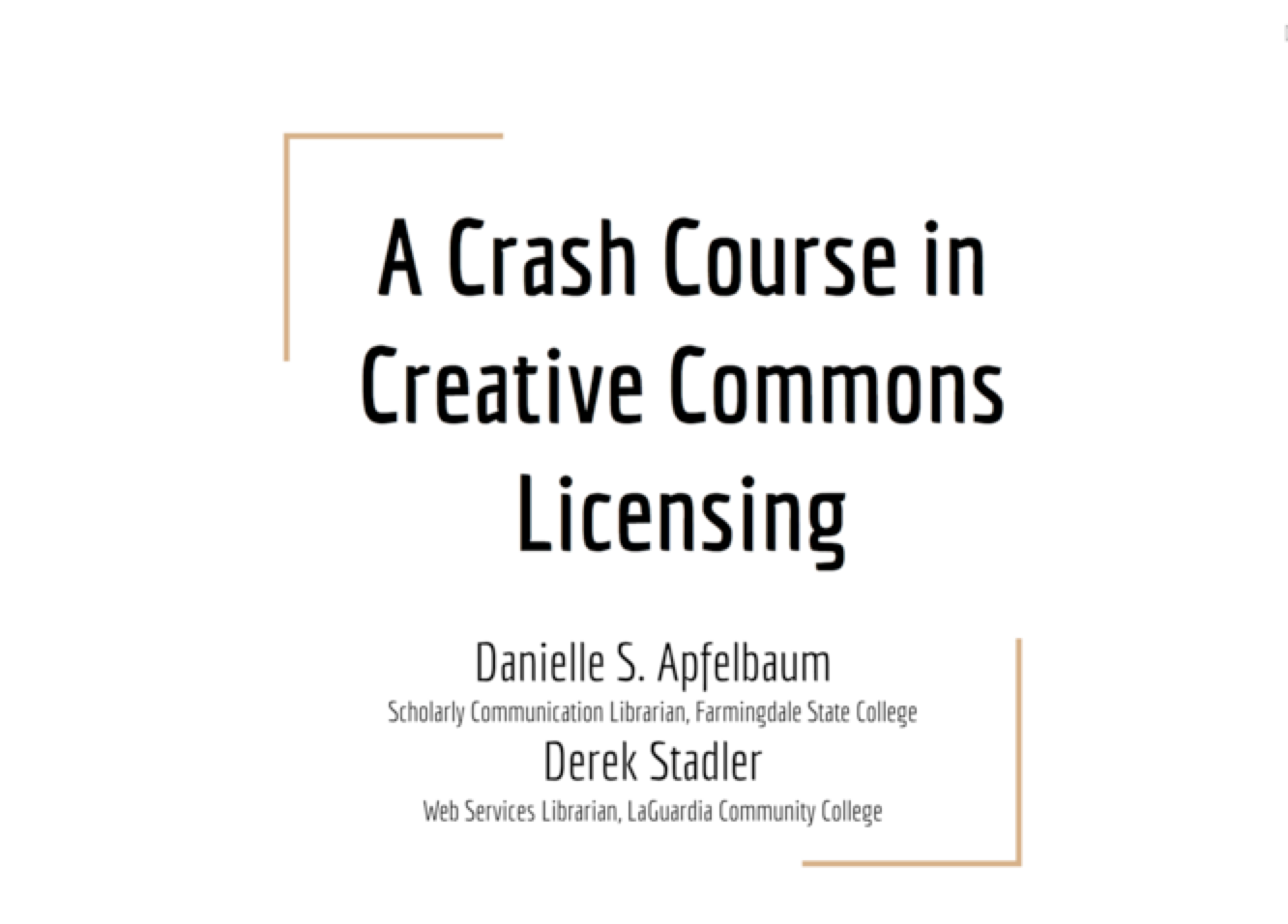 Did you know that over 1 billion works -- including scholarly articles and a growing number of academic textbooks -- have been licensed with a Creative Commons (CC) license?  Though widely adopted, these continually-updated, legally-enforceable tools remain a mystery to academic writers. Many authors are unaware of the permissions afforded to them through the CC licenses, and many are unaware of permissions afforded to users when a specific CC license is applied to their work by an open-access publisher. By the end of this session, attendees will be able to understand how copyright and the CC licenses work in concert to protect author rights while communicating additional permissions to users, identify and interpret each of the six CC licenses, determine how CC-licensed materials may or may not be used without permission in traditional and open publications, and select a license should attendees wish to openly license their work. Watch
---
Presenter: Tara Gray, author of Publish & Flourish: Become a Prolific Scholar

Organization is the skeleton of a manuscript, its very structure. Get it right and the manuscript works. Get it wrong and it doesn't. In this one-hour webinar, presented by Tara Gray, author of Publish & Flourish: Become a Prolific Scholar, you will learn how to organize paragraphs around key or topic sentences and how to organize manuscripts around an "after-the-fact" or "reverse" outline. You will also learn how to solicit and use informal feedback effectively by asking just the right readers for feedback and by asking specific questions, such as, "What one place in the manuscript is least clear? Least organized? Least persuasive? Watch

---
Presenter: Tara Gray, author of Publish & Flourish: Become a Prolific Scholar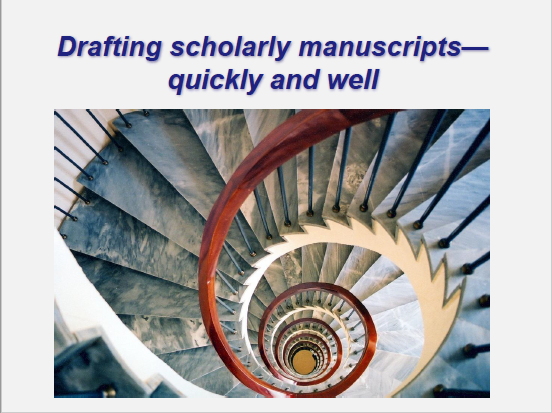 Writing daily in short bursts of time (at least 15-30 minutes) helps get ideas on paper. A hundred scholars were studied who succeeded in writing 30 minutes a day, four days a week. They tripled their productivity from finishing two manuscripts per year to nearly six. But how to get started and stick with it? This webinar shows you how.

You can also greatly enhance your productivity by free writing or writing rapidly without self-censorship and without revising as you write. Free writing is casual, conversational, spontaneous, disorganized and clear only to you (if that). It is also fun to write! Nonetheless, important ideas emerge that can be easily shaped into a full paper. In this one-hour webinar, presented by Tara Gray, author of Publish & Flourish: Become a Prolific Scholar, you will learn how to use these two writing strategies to increase your writing productivity. Watch
---
Presenter: Micki M. Caskey, Professor, Portland State University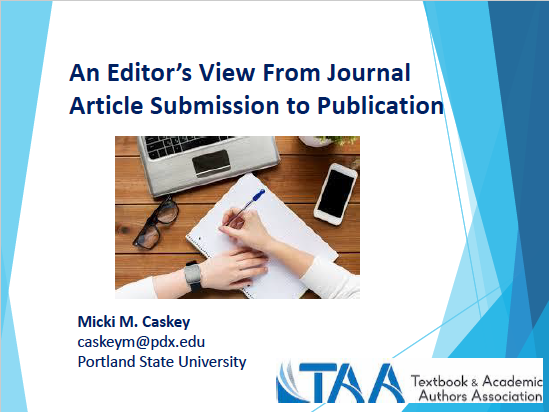 Publishing peer-reviewed journal articles is often considered the gold standard in academia. Yet, what really happens when you submit your article to an academic journal? In this session, Micki Caskey, Former Editor of Research in Middle Level Education Online, an international peer-reviewed research journal, demystifies the journey your article takes during the publication process--from the moment you click on "submit" to the journal's publication decision. What will improve the likelihood of an "accept" decision? What can you do to avoid the "reject" decision? How do authors celebrate a "revise and resubmit" decision? Micki shares what journal editors want authors to know and do before submitting a journal article that will lead to a successful publication. Watch

---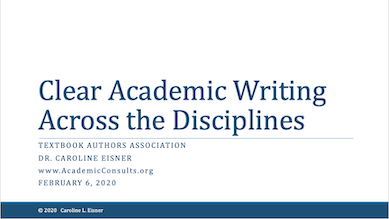 Presenter: Caroline Eisner, Certified Professional Coach, Eisner Consulting LLC
We know that for academics and researchers, writing well means being able to write academically in the discursive styles of a specific discipline. Furthermore, when Writing in the Discipline programs are firmly in place, faculty across the disciplines work with students in their courses through assignments and assessments, in-class instruction, and course readings to understand and articulate the disciplinary discourse conventions of that discipline. In this one-hour webinar, Eisner discusses the components of clear academic writing and how these components apply to the discourse conventions across the disciplines. She also reviews what clear academic writing is across disciplines and how to think about, practice, and teach the discourse conventions of specific disciplines. Watch
---
Presenter: Janet Salmons, Author of Learning to Collaborate, Collaborating to Learn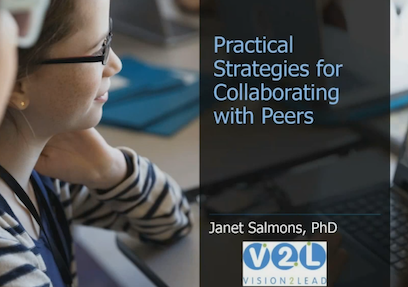 Sometimes collaboration comes naturally. We can communicate honestly to determine shared goals and complete a project. It can be exhilarating to see what can be accomplished when we pool ideas and expertise. Other times, collaboration seems time-consuming and frankly aggravating. Perhaps we thought we were on the same page with our partner(s), only to discover that their sense of time, criteria for quality, or willingness to address problems are not as we expected.

Author and coach Janet Salmons shares how the approaches described in Learning to Collaborate, Collaborating to Learn apply to peer collaboration for writing, editing, or other projects. Learn practical strategies you can use when planning and participating in complex collaborations, including creating workable agreements, selecting technology tools, and dealing with setbacks. Watch
---
Presenter: Mark Pedretti, Assistant Professor of English, Providence College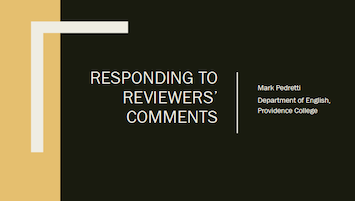 Whether submitting journal articles or book manuscripts, academic authors can expect their work to be anonymously reviewed by expert peers. Sometimes helpful, sometimes infuriating, reviewers' comments can make or break a publication; a negative review can bring your piece to a screeching halt. This webinar discusses strategies for engaging with reviewer's comments — both positive and negative. It also explores ways to figure out the importance placed upon comments in a given publishing context, the relationship between editor and reviewer, and whether comments are in fact "make or break." Pedretti shares strategies for documenting responses to suggestions, and how to politely decline to make changes that are off base. Gain a set of tools for navigating the unspoken rules of the review process. Watch
---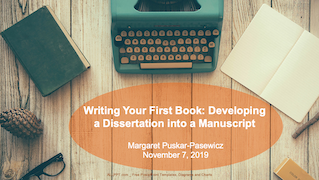 Presenter: Margaret Puskar-Pasewicz, MargaretEdits

Publishing your first book is imperative for many early-career scholars, but turning your dissertation into a book can be a confusing and difficult process. Margaret Puskar-Pasewicz of MargaretEdits shares practical strategies and tips for bridging the gap between completing your dissertation and writing a compelling book manuscript. Along the way, she shares some of the most common mistakes that she's encountered in her years as an academic editor and writing coach.

She also focuses on the importance of staking a claim that you can defend consistently throughout your book as well as developing your scholarly voice. This is a wide-ranging and honest discussion about the challenges of academic writing for early-career researchers and how to overcome them. Watch
---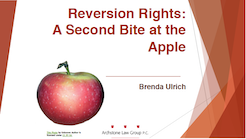 Presenter: Brenda Ulrich, Partner, Archstone Law Group PC

Most publishing contracts are for the life of the copyright, so how could an author ever get their rights back? Brenda shares the role of reversion clauses in a publishing contracts, which allow rights in a book to revert to their authors under certain circumstances. Questions covered:
What is a rights reversion?
In what circumstances could/should an author seek a reversion of rights?
The reversion of rights clause - what is it, how to see if you have any rights per your contract
What are the benefits to seeking a reversion of rights? What can you do once you have your rights back?
How do you go about seeking a reversion of rights
---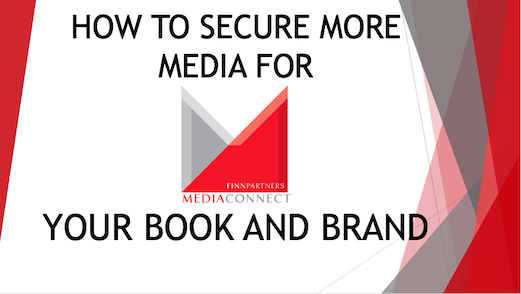 Learn from a veteran of over 1,000 book publicity campaigns -- the mistakes to avoid, the myths to debunk, and the proven strategies to execute. Understand what book publicity in 2019 consists of – it is not all about social media, but it cannot be ignored either. In this one hour webinar, you will come to understand how to see yourself as a brand, how to market yourself, and how to recognize where you need support. Watch


---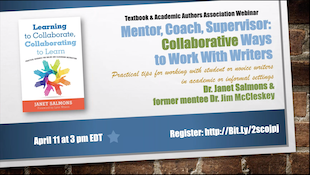 Writing is deeply personal. But unless we are writing research memos or journal entries, we will have to cooperate with reviewers, editors, and others to get our work published. As faculty supervising students, writing program staff, trainers or consultants, we have the opportunity to help aspiring writers to work more collaboratively. Using the term collaboration to describe "an interactive process that engages two or more participants who work together to achieve outcomes they could not accomplish independently" (Salmons, in press), Dr. Janet Salmons and her dissertation supervisee Jim McClesky explore ways to develop skills valuable to writers. They look at ways to use review exchanges, writing circles, support teams and other approaches to improve writing while learning to work collaboratively. Practical strategies are offered for classroom, committee, or informal learning settings. Watch
---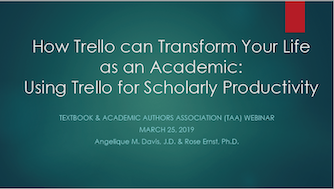 Do you juggle multiple teaching, scholarship and service projects and worry about 'dropping the ball'? Do you wish you had one place to easily organize your life as an academic? Then Trello might be for you. In the first half of the webinar, Angelique M. Davis and Rose Ernst provide an overview of the magic and logic of Trello. They will show you how to use it to masterfully manage multiple projects in one place—without having to switch between paper and multiple digital programs! In the second half of the webinar, they show you how to use Trello to move your scholarly projects forward. This includes a demonstration and template of a Trello board based on Erin Furtak's publishing pipeline. You will leave this webinar with a plan to set up your Trello account so you can become a master juggler and calmly manage your academic life. Watch
---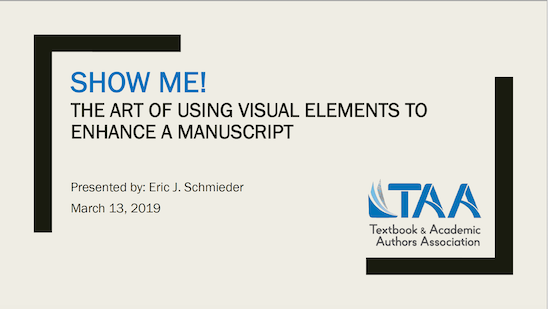 Visual elements, such as tables and figures, can improve the readability and overall quality of a manuscript when used properly. After all, a picture speaks a thousand words, right? But poorly developed images can be more distracting than helpful. In this webinar, Eric Schmieder, author of Web, Database, and Programming: A foundational approach to data-driven application development using HTML, CSS, JavaScript, jQuery, MySQL, and PHP, highlights ways to effectively incorporate visual elements into your journal articles and textbooks. He also shares some important tips for maintaining accessibility guidelines in the process. Watch
---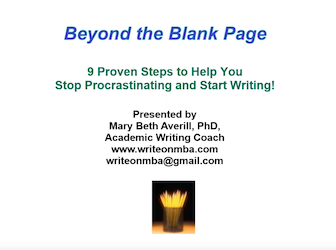 For some people, staring at that first blank page is the hardest part of the writing task. Others have good start up energy and ideas but struggle to maintain momentum. Finally, are those who wrestle with completing a manuscript and sending it out. Mary Beth Averill, PhD, MSW, an academic coach and author of How to Become an Academic Coach, presents nine strategies to help you with organization, motivation, time management, and editing from start to finish whether you are writing an academic book, journal article, or dissertation. Watch


---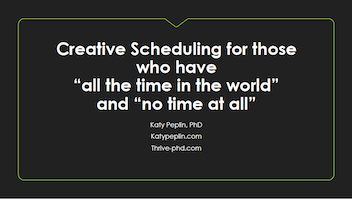 Whether you feel over-scheduled or are desperate for a little structure in your day, a more intentional approach to managing time can be a writer's secret weapon. However, it can seem impossible to add time into an already packed schedule, or restrict flexibility when that feels integral to the writing process. This session, by Dr. Katy Peplin, Coach and Editor at Thrive PhD, provides a collection of tools to think about time, how you spend it, and how that does or does not align with your life writ large. Learn how to diagnose common time management patterns; introduce a wide range of strategies for scheduling, planning, and structuring time; and work through "hot spots" in any schedule (start of day, end of day, transition time). Watch
---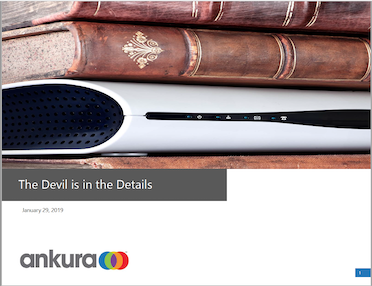 After a brief overview of key clauses in publishing agreements, Juli Saitz, CPA, Senior Managing Director, Ankura Consulting Group, shares specific contract clauses that affect royalty calculations and payments. She examines the same clause with slightly different language for two hypothetical contracts and then presents how the royalties differ under each scenario. Watch
---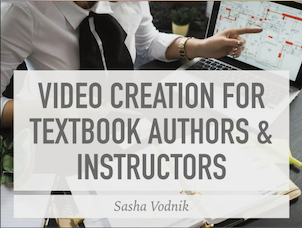 Videos are increasingly integral to the learning process. As a textbook author, you can increase the value of your book for both students and instructors by creating and publishing videos linked to your content. As an instructor, videos you create to supplement your course can help students review and retain material outside the classroom. In this session presented by Computer Programming Textbook Author, Sasha Vodnik, he'll survey free tools for recording and production, as well as popular paid alternatives, and examine the tradeoffs. He'll also walk through the steps to record video and audio, put it together, and publish it online. Watch

---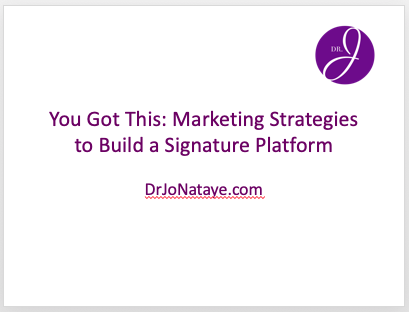 This one-hour webinar by Dr. JoNataye Prather, Social Work Program Chair at Union Institute and University, will empower you with resources to discover your signature brand, provide social media tips and Internet marketing strategies to engage students, and build an audience to publish scholarly content inside and outside the classroom. Get the resources you need to develop a marketing mindset, including:
Branding tools and social media secrets to attract followers and build an audience.
Internet marketing techniques to engage students and deliver your message to the masses.
Technology tips to automate, produce creative materials, stay organized, and deliver consistent content to build your platform.
---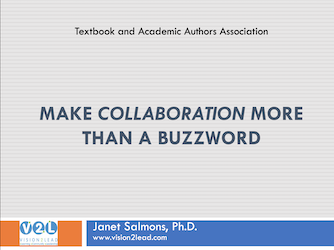 The term collaboration is sometimes used casually to describe almost any situation that involves more than one individual. If we define the term as "an interactive process that engages two or more participants who work together to achieve outcomes they could not accomplish independently" (Salmons, in press), then it is clear that more is involved than simply joining forces. How do we decide what kind of interactive process will allow us to achieve outcomes more significant than what we could do on our own? What steps will improve collaborations when some or all of our interaction occurs online? These are questions Dr. Janet Salmons, author of Learning to Collaborate, Collaborating to Learn: Practical Guidance for Online and Classroom Instruction, explores in the context of co-research, co-editor or co-author collaboration. Watch

---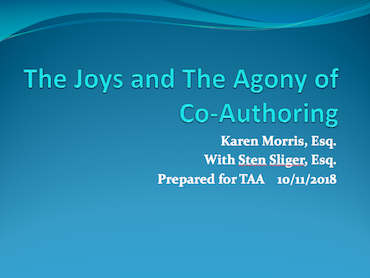 Coauthors Karen Morris, a seasoned author and lawyer, and Sten Sliger, a new author and lawyer, share best practices for finding, vetting, contracting, and working with coauthors. Watch
---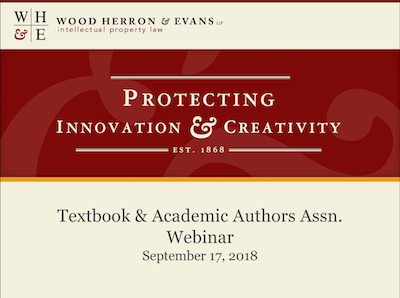 Your contract provided by your publisher will probably put the burden of securing permission for the use of third party material solely on you. How much of this is negotiable? What are the possible compromises? And regardless of whether you end up doing it or the publisher does it, under what circumstances do you need permission and how do you best go about getting it? Get answers to these questions from Stephen E. Gillen, a lawyer with more than 40 years of experience in and around the publishing business, and author of the forthcoming book, Guide to Rights Clearance and Permissions in Scholarly, Educational, and Trade Publishing. Watch
---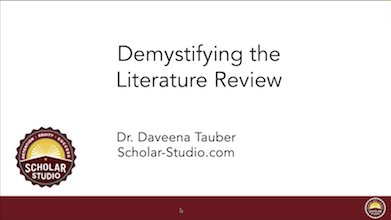 Literature reviews are one of the more challenging genres of academic writing. Dr. Daveena Tauber, Founder of ScholarStudio, helps you understand not only what it means to synthesize the literature, but also gives you tools for doing it. She talks about strategies for reading, making sense of, and writing about the literature. Whether you're writing a literature review for a dissertation, an article, or the introduction to your book, you won't want to miss this rare opportunity to get clarity on this important part of your project. Watch
---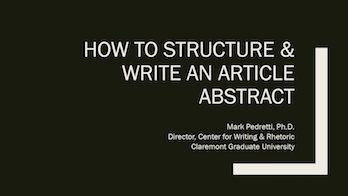 What makes for a strong article abstract? How much is too much, not enough, and just right? What goes in and what stays out? The abstract to your article is often the first thing that readers and reviewers see, and setting the right tone up front can influence the way the rest of your text is received. Mark Pedretti, Director of the Center for Writing and Rhetoric, Claremont Graduate University, discusses the basic structure of abstracts, the adjustments you need to make to them in different publication situations, and the rhetorical purposes that abstracts serve in relation to other parts of your text. He also looks at several examples of abstracts from different disciplines and genres in order to consider the strategies that each uses to accomplish its rhetorical ends. Watch
---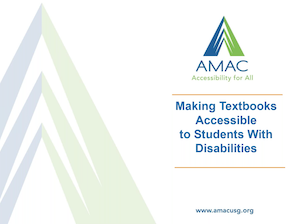 As digital technology continues to redefine the market for instructional materials, one thing remains constant: students with disabilities must not be left out. While products evolve, the concepts of equal access, and the legal obligation of educational institutions not to discriminate, remain. Robert Martinengo, Publisher Outreach Specialist for the CAMI project at AMAC Accessibility, covers three main topics: 1) What authors can do now to make their manuscripts more accessible, and how to plan for an accessible final product; 2) What can happen during the publishing process that can negatively impact accessibility, and what to do about it; and 3) How to assess whether or not the final product is accessible, and what can be done to improve the situation if it is not. Watch

---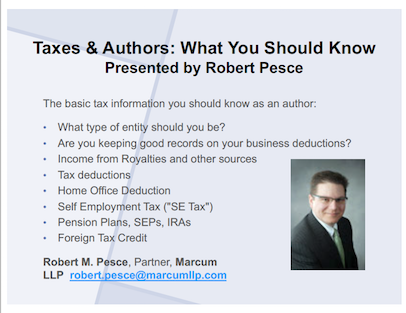 While it is understandable that most writers would prefer to concentrate their time on their writing, writing is a business and you need to make sure you're taking care of all of the tax deductions that you should be. Robert M. Pesce, a partner with Marcum LLP, covers the basic tax information you should know as an author, including: What type of entity should you be?; Are you keeping good records on your business deductions?; Income from Royalties and other sources; Tax deductions; Home Office Deduction; Self Employment Tax ("SE Tax"); Pension Plans, SEPs, and IRAs; and Foreign Tax Credit. (This presentation is audio only.) Listen


---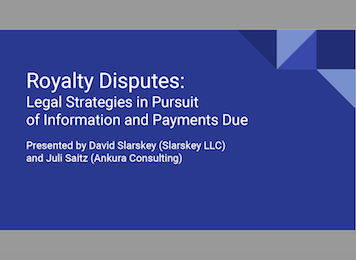 David Slarskey, a Litigator with Slarskey LLC, and Juli Saitz, a CPA and Senior Managing Director at Ankura Consulting Group, discuss the challenges associated with getting reliable information from publishers, the state of the law for authors seeking access to data, and negotiation and legal strategies for pursuing recoveries while protecting relationships. Watch
---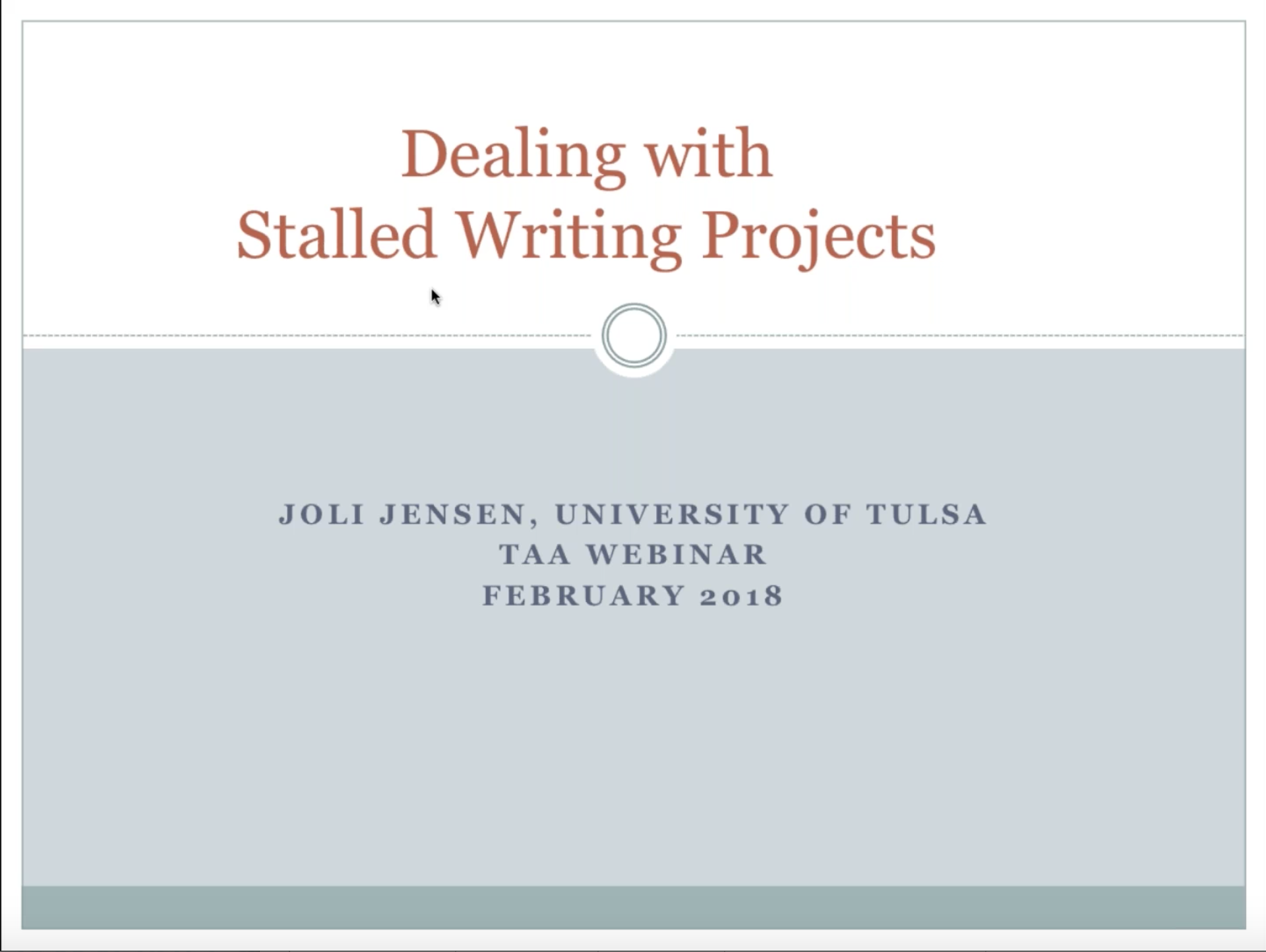 Sometimes writing projects, no matter how worthwhile or necessary, lose momentum. Stalled projects can become albatrosses, draining our energy and keeping us trapped.

Learn structured techniques to figure out the best way to deal with your stalled writing project, as well as strategies and support for recommitting to, reframing or appropriately relinquishing your stalled project, from presenter Joli Jensen, author of Write No Matter What: Advice for Academics. This makes it possible for you to move forward with a project you truly want to write. Watch