Store | Textbook & Academic Authors Association
---
Guide to Making Time to Write: 100+ Time & Productivity Management Tips for Textbook and Academic Authors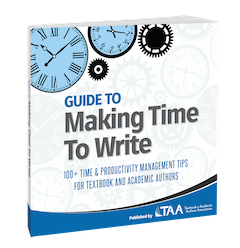 Published by the Textbook & Academic Authors Association

Contributors
$9.95 (eBook)

Publisher: Textbook & Academic Authors Association, 2020
eBook: Pages: 56 | Edition: 1st | ISBN: 978-0-9975004-6-2
*We only ship print orders within the continental US and Canada.
"Looking to be more productive? Need more time to write? TAA's Guide to Making Time to Write is a treasure trove of guaranteed advice from the trenches that all of us can benefit from. Read it and amp up your output this week!" - John Bond, Publishing Consultant, RiverwindsConsulting.com
"As an academic writing coach, I work on time management with my clients a lot. The 128 tips offer something for every academic writer. What I appreciated the most, however, were the 25 software recommendations. Software is not my forte, so I was glad that the book devoted space to programs for me and my clients to try out." - Mary Beth Averill, PhD, an academic writing coach and editor, facilitates a weekly faculty writing group and works with individuals
"In addition to the book's many bulleted points you can pop like quick-fix pills, the sidebars of a 'Featured Strategy' bring warmth and relatability, with personal examples and photos of the writers/scholars advising how they specifically use time management and writing techniques." - Noelle Sterne, PhD, author of Challenges in Writing Your Dissertation: Coping with the Emotional, Interpersonal, and Spiritual Struggles. Read her full review
Read Kathy Roulston's review on QualPage
---
You know you should be writing at least 15 minutes a day. But with all the demands on your time, how can you find 15 minutes or more to spare?
And when you do find the time to write, it's often hard to break free of the distractions and build momentum in the time that you have. We get it. Making time to write–and doing it productively–can be challenging.
So, to help you succeed, we've collected 100+ successful tips and strategies–and a lot of inspiration–from authors who have made the time and made it work. In this Guide to Making Time to Write, you will find just what you need to boost your productivity, adjust your routine, and focus on your writing efforts once and for all. Isn't it time for you to make the time to write?
Bonus! Eight time & productivity management templates to get you started, plus more than two dozen software recommendations.
What readers are saying about Guide to Making Time to Write