Join the TAA Authoring Community!
With membership in TAA, you are not alone.

As a TAA member, you become part of a diverse community of textbook and academic authors with similar interests and goals. Each new member enriches the community experience by expanding its breadth of knowledge and creating more opportunities for networking and collaboration.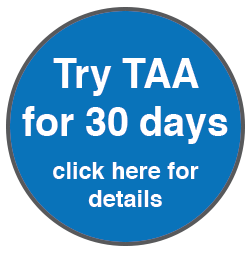 Download the TAA Membership Brochure

Discover all of the member resources available to you to help you navigate your path to writing success:

Increase your writing productivity with free audio conferences and webinars.
Browse our growing library of downloadable templates, worksheets, checklists and samples gathered from experienced textbook and academic authors and industry professionals to assist you with your own writing.
Download more than a dozen eBooks on writing and publishing, social media for academics, grant writing, and more.
Network with your fellow authors in the online member community by joining the Textbook Writing & Publishing discussion group or the Academic Writing Discussion Group. You can also join the Writing Accountability discussion group to share your writing goals and progress with other members.
Offset your out-of-pocket expenses with publication grants or maximize your royalty potential with a textbook contract review grant.

Browse a list of academic coaches, editors, consultants, intellectual property attorneys, indexers, accountants and tax advisors, and more, offering discounted rates exclusively to TAA members.

Receive discounted rates on TAA's annual conference and on the association's publications, Guide to Rights Clearance & Permissions in Scholarly, Educational, and Trade Publishing, Guide to Textbook Publishing Contracts and Writing and Developing Your College Textbook.
Special Offer - Buy Writing and Developing Your College Textbook, Guide to Textbook Publishing Contracts, or Guide to Rights Clearance & Permissions and get $10 off your membership dues or a free 30 day membership! (You will receive a coupon code for the free 30-day membership in your book purchase confirmation email.)
Are you an industry professional (e.g., editor, publisher, consultant, indexer, textbook illustrator, writing coach, etc.) seeking to reach our audience of textbook and academic authors? If so, learn more about how TAA membership can benefit you, or join here.
Member Categories | Dues



Membership dues are paid on an annual basis. Your renewal date is one year from your join date.
Graduate Student | $25
Emeritus Member | $35 (Authors who are retired from teaching and are no longer writing or revising.)
Untenured Faculty or Textbook Author with Royalties Under $5,000/yr | $50
Tenured Faculty or Textbook Author with Royalties Above $5,000/yr | $100
Contributing Member | $200 ($100 will be credited to your membership renewal and the remainder goes to a general fund to support TAA activities.)
Industry Professional | $90 (e.g., editor, publisher, consultant, indexer, textbook illustrator, writing coach, etc.) Join here
What TAA members have to say about their membership
---
Chapter Membership
TAA's chapter program provides colleges and universities an efficient and cost effective way to extend their faculty development programs by offering TAA's extensive membership benefits to their faculty. Chapters benefit from a reduced annual dues rate, annual chapter grants of up to $500, two complimentary annual conference registrations, a starter mini resource library that grows each year, and all the benefits of a TAA membership. For more information about starting a TAA Chapter, visit the Chapter page or contact Maureen Foerster, Director of Institutional Memberships & Meetings at [email protected]