Help your faculty authors boost their publishing success with a TAA Institutional Membership.
Institutional Memberships include a
Virtual Workshop

or TAA Writing Program, and 150 TAA memberships for only $1,000. Add one or more writing programs for an additional $1,000 each.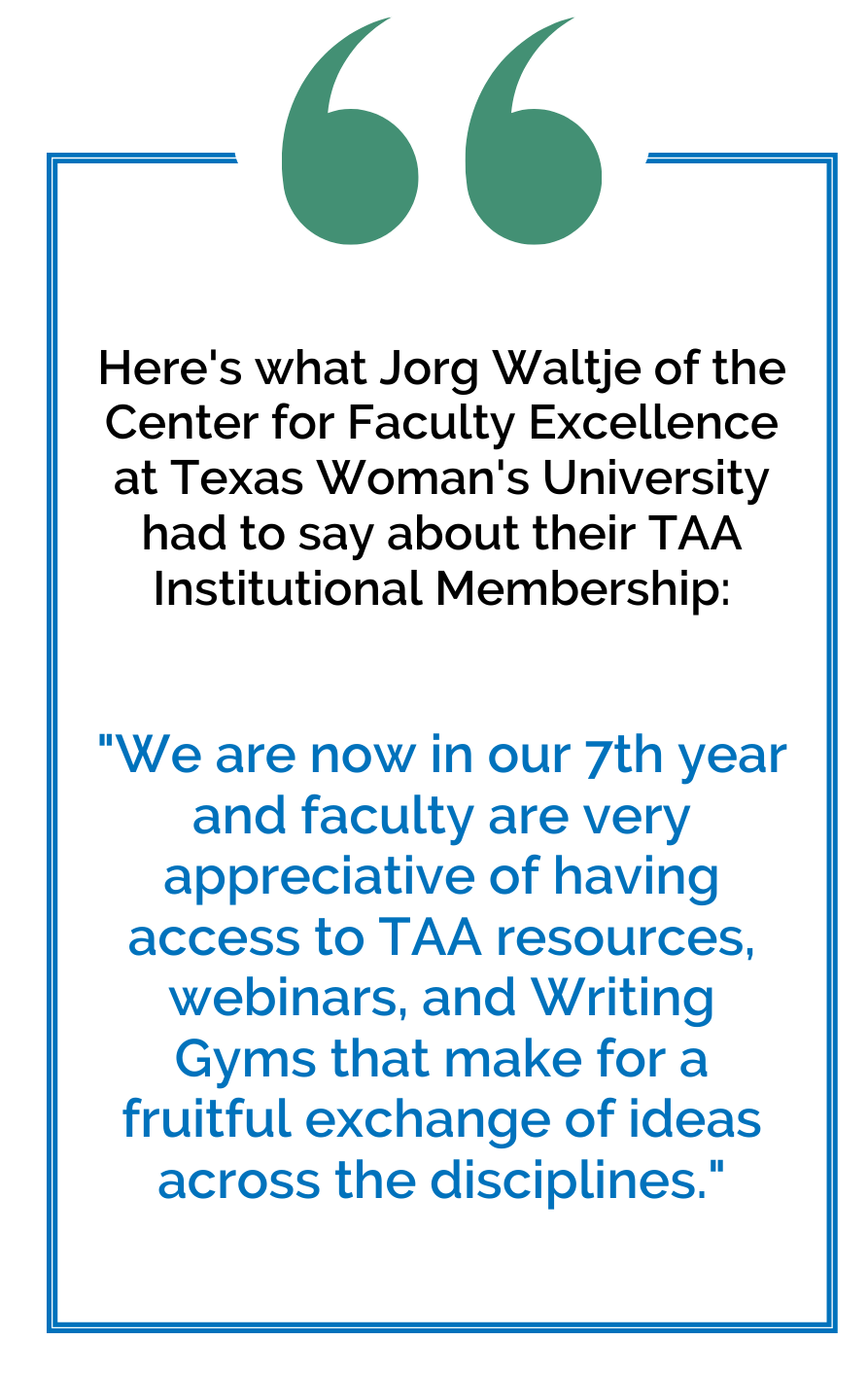 Hosted on Zoom, these expert-led interactive 90-minute to two-hour virtual workshops include open Q&A discussions, how-to instruction, resource handouts, and more. 


Choose from 25 Virtual Workshops, including:
Anchor
---

Choose from three Writing Programs, including:
Includes access to three six-week Writing Gyms.
Give your faculty the opportunity to flex their writing muscles in the TAA Writing Gym! This 6-week work-out-on-your-own gym time serves as your faculty's writing accountability partner as they work to achieve their writing goals. The program includes:
Six on-demand writing classes
Weekly inspirational emails
Templates

 for tracking writing and developing a six-week workout plan

Several 

writing stations

 that allow faculty to target specific writing areas

A discussion group for networking with other participants.
Includes access to 12 Months of Motivation.

Help your faculty authors accomplish their academic writing goals by focusing on two areas of academic writing that many authors tend to struggle with - isolation and accountability. This program includes:
Includes access for one full year.

Have a group of authors who need guidance in writing their first textbook? TAA's online course, Writing and Developing Your College Textbook, covers everything they need to be successful.

Based on an 11-chapter section of Writing and Developing Your College Textbook: A Comprehensive Guideby former publisher, author and textbook editor Mary Ellen Lepionka, this self-paced course will empower authors to undertake textbook development by guiding them through the nuts and bolts of the development process. 
---
If you are interested in purchasing the TAA Writing Gym, Month of Motivation, or Textbook Development Course as single options or without a workshop, please see the

TAA Writing Programs

page for details.
Please contact Kim Pawlak for more information: [email protected] or (507) 459-1363.