TAA Writing Gym: Heavy Lifters
Flex your writing muscles in TAA's new Writing Gym: Heavy Lifters program! This expanded program offers everything from the TAA Writing Gym plus 10 additional writing classes and access to TAA's Guide to Making Time to Write eBook, which includes 100+ time management and productivity strategies. This 6-week work-out-on-your-own gym time serves as your writing accountability partner as you work to achieve your writing goals.
The next gym starts January 29. Sign up will open soon.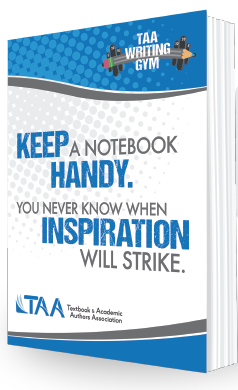 This program includes everything from the TAA Writing Gym:
Six on-demand writing classes
Templates for tracking writing and developing a six-week workout plan
Weekly inspirational emails
Several writing stations that allow faculty to target specific writing areas
A discussion group for networking with other participants
A TAA Writing Gym-branded writing journal
A participation certificate
Plus, these additional resources for Heavy Lifters:
Cost: $99 

---
TAA's Writing Gym program is available to members only. Join TAA today!