TAA Store
---
Purchase Our 4-book Essential Books for Authors Bundle and Save!
The Essential Books for Authors Bundle has you covered start to finish on your publishing journey. It includes all four ebooks below at an amazing bundle price of $29.95 for the eBook bundle.

---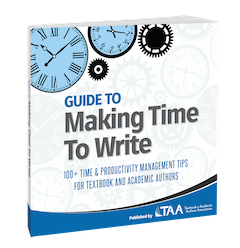 Price: $9.95 eBook

Publisher: Textbook & Academic Authors Association
eBook: Pages: 56 | Edition: 1st | ISBN: 978-0-9975004-6-2

You know you should be writing at least 15 minutes a day. But with all the demands on your time, how can you find 15 minutes or more to spare? And when you do find the time to write, it's often hard to break free of the distractions and build momentum in the time that you have. We get it. Making time to write–and doing it productively–can be challenging.
So, to help you succeed, we've collected 100+ successful tips and strategies–and a lot of inspiration–from authors who have made the time and made it work. In this Guide to Making Time to Write, you will find just what you need to boost your productivity, adjust your routine, and focus on your writing efforts once and for all. Isn't it time for you to make the time to write?
Bonus! Seven time & productivity management templates to get you started, plus more than two dozen software recommendations.
---
Price: eBook $9.95


Publisher: Textbook & Academic Authors Association


eBook: PDF | Pages: 220 | Edition: 1st



Learn what you need to know to avoid and manage copyright infringement claims that arise from the publication of your book, article, or media project. In this book, intellectual property attorney Stephen E. Gillen covers the unique rights clearance and permission issues related to writing scholarly works. You'll also get practical pointers and guidelines, and more than a dozen templates you can use to request permissions and secure releases. Put 40 years of rights clearance and permissions experience on your bookshelf.

Learn more or order
---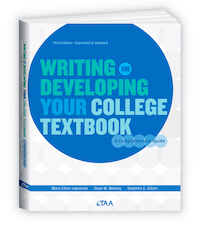 Price: $14.95 (eBook)

Publisher: Textbook & Academic Authors Association
eBook - ePub | Pages: 538 | Edition: 3rd | ISBN: 978-0-9975004-2-4

This updated and expanded third edition by Mary Ellen Lepionka, Sean W. Wakely, and Stephen E. Gillen, will empower you to undertake textbook development by guiding you through the nuts and bolts of the development process, and providing essential background information on the changing higher education publishing industry, as well as how to choose a publisher, write a textbook proposal, negotiate a publishing contract, and establish good author-publisher relations.
---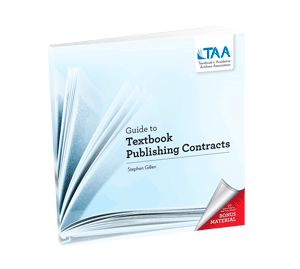 Price: $7.95 eBook

Publisher: Textbook & Academic Authors Association
eBook - Pages: 40 | Edition: 1st
In this step-by-step guide by Stephen Gillen, a Partner at Wood Herron & Evans, you will learn the key provisions of a typical textbook contract and how to determine what's important to you so that you can enter into the contract negotiation process better informed. Get the "typical", "better" and "better still" options you can consider when making decisions about what to negotiate.
---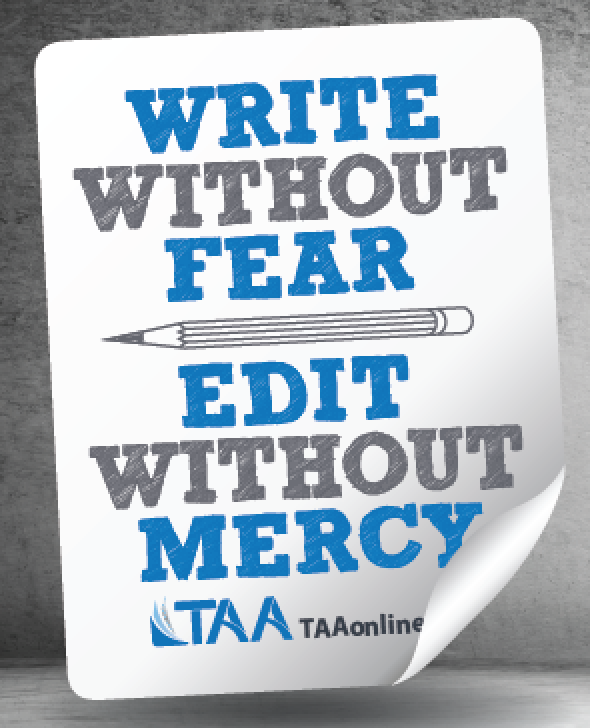 Show everyone you have no fear of writing with these stickers displayed on your computer, smartphone or office door.

Width: 2.875 Height: 3.75
Rounded corners and white background
Removable and reusable high quality material that feels like fabric.
Price: $2.00