Call for Proposals: 

TAA's 34th Annual Textbook & Academic Authoring Conference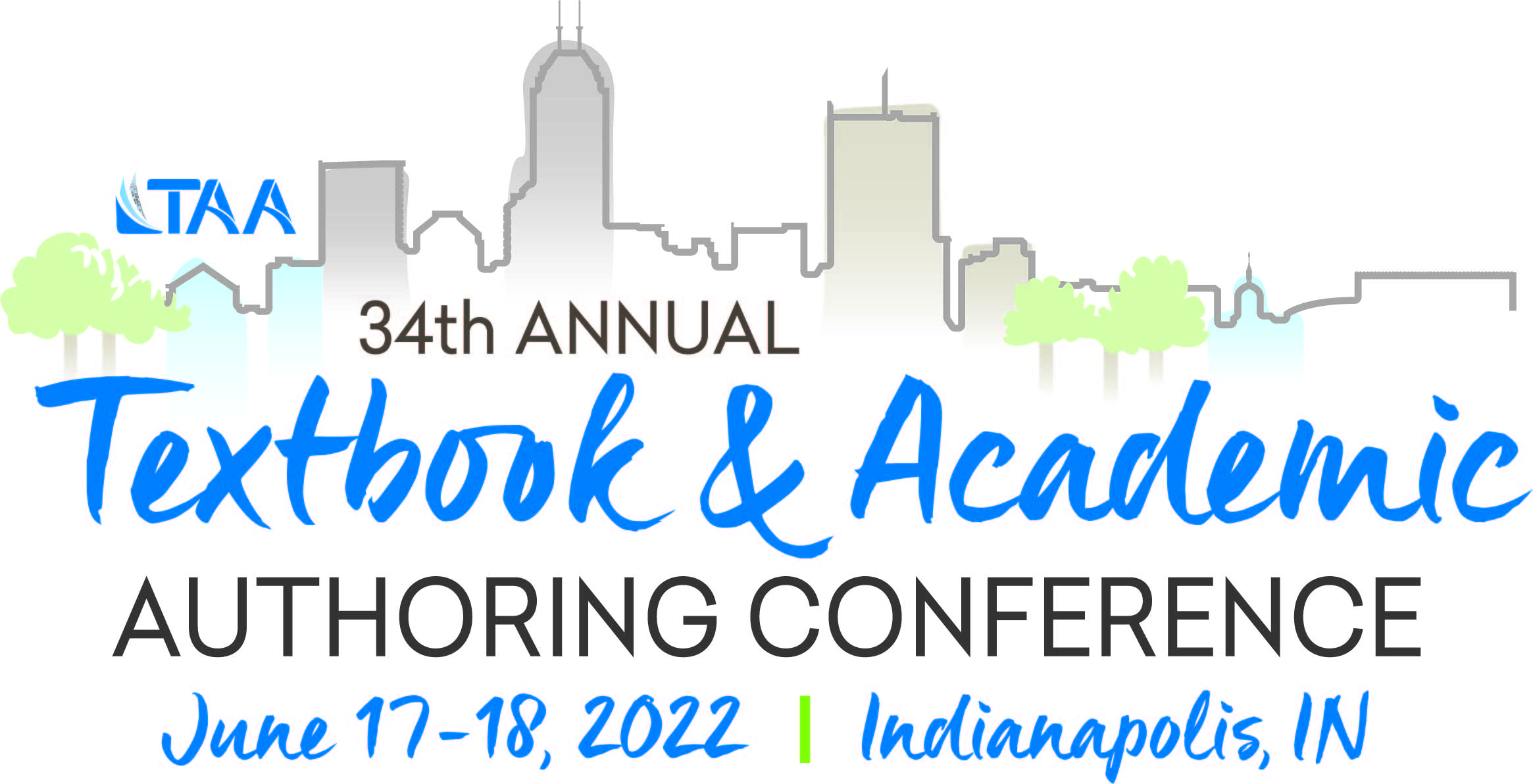 Proposals are no longer being accepted for the 2022 conference. Thank you to all who submitted.
TAA is currently accepting session and roundtable proposals for its 34th Annual Textbook & Academic Authoring Conference. The conference will be held June 17-18, 2022 at the beautiful Conrad Indianapolis, a 5-Star property located in the heart of beautiful downtown Indianapolis. A highly interactive event, conference participants will include authors and aspiring authors of textbooks, journal articles, and other academic works, as well as by industry professionals from across the country. 
TAA invites the submission of presentations relevant to authoring and publishing textbooks, journal articles, academic books and monographs. Interactive sessions are encouraged. The deadline for the session proposal form is October 4, 2021. 
Topics of interest include:
Time Management and Writing Productivity
Tech Tools to Enhance Your Works
Diversity, Equity, and Inclusion in Scholarly Writing
Publishing Industry Updates & Trends
Writing Projects for Different Stages of the Writing Career
Navigating Copyright and Permissions
Contract and Royalty Negotiating and Monitoring
Marketing Your Works and Creating Your Brand
Trends and Opportunities in Open Access/OER
Mentoring strategies and benefits
Writing Groups 
Trends in Digital Publishing
Session Formats

: Session proposals can be submitted for the following formats:
Traditional Presentation: 60-minute or 30-minute sessions featuring one to three speakers and allowing for 10-15 minutes of Q&A.

Panel Discussion: 60 or 90 minute session with multiple presenters. Active audience participation is encouraged and expected. 

Roundtable Presentation: 45-minute small-group discussion moderated by the roundtable presenter and focusing on one authoring or publishing topic.
Recorded "How To" Demonstration: 10-minute recorded demonstration on a specific technique, app, tool, or strategy relating to writing productivity.
Selection
Proces

s
Please submit your proposal by October 4, 2021. The 2022 TAA Conference Committee will review all proposals and notify you of the status of your submission by November 15, 2021. The committee is looking for proposals that they believe will create the greatest engagement for attendees, with descriptive titles, compelling abstracts, and clear statements of learning objectives. Interactive sessions are encouraged. For proposals that are neither directly declined nor accepted, the committee may request revisions to proposals or alterations in format. 
Presenter Submission Guidelines
Submissions will require a 75-word bio and .jpg photo for each presenter to be used for program publicity. A PDF of the bio(s) and the photo(s) can be uploaded to the proposal form.
Presenters should meet posted dates and deadlines; failure to do so may lead to removal from the program.
PowerPoint slides is encouraged. 
Presentations should not be of a commercial nature.
Review program content from past TAA conferences:
2021 Virtual Conference
2019 TAA Conference
2018 TAA Conference
2017 TAA Conference
2016 TAA Conference
2015 TAA Conference