Ron Pynn Award
The Ron Pynn Award was established to honor longtime TAA member Ronald Pynn, who was a charter member of TAA, a three-time TAA president, and served as executive director of the association for more than 10 years. The award is open to TAA members who have authored, co-authored, or co-edited at least five textbooks, at least two of which are authored or edited solely by the nominee. The nominee's textbooks must be published in more than one discipline or more than one area of discipline.
Other criteria for nomination include one of the following:
National and international reputation as evidenced by written, refereed, widely cited and reviewed publications.
National prominence as an educator of the public, as shown through television broadcasts, magazine articles, newspaper articles, or other public media, as well as authored or edited publications.
How to Apply
Any TAA member may nominate him or herself or another TAA member. The award is limited to one recipient annually and the recipient will be selected by the TAA Council via ballot. The winner is announced at an Awards Ceremony during the association's annual conference in June.

To nominate yourself or another TAA member for this award, please submit the nominee's name and documentation detailing how the nominee meets the criteria for the award, via email to [email protected]. Include the subject line: "TAA Ron Pynn Award nominee". The deadline for nominations is February 15, 2019.

View past recipients
---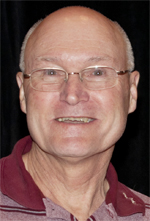 Ronald Pynn is Professor Emeritus of Political Science at the University of North Dakota, and Dean of the Medical School in St. Mathews, Belize. Pynn was a charter member of TAA, a three-time TAA President, and served as Executive Director of TAA for more than 10 years. Pynn has written several books on political science, including Watergate and the American Political Process, American Politics: Changing Expectations (5e), Political Economy, and The Election of 1994.